SWIMMING LESSONS, CAMPS, EVENTS
& PRIVATE COACHING
SWIM

CAMP

, THE FASTEST WAY TO BECOME A MORE EFFICIENT SWIMMER
If you want to improve your swimming, but don't know where to start, SwimCamp is the perfect place for you. From beginners who want to learn the basics of open water swimming, to more advanced strokes such as breaststroke and butterfly, we offer a range of swimming classes and camps to suit everyone.
We offer Pool Swimming Lessons & Classes in Dublin, Ireland for Children & Adults
Our swim clinics will be structured to include swimmers of the same skill level. Our ratio swimmer to coach ratio is kept low to enable us to give each swimmer in attendance the time and attention they need during each session. Additionally, we offer Masters Swimming sessions.
We are focussing on technique and training advice for younger swimmers as well as more experienced club swimmers. Whether you're a beginner or an advanced swimmer, our expert trainers will work with your swimming goals to help take your skills to the next level.
Train 1-on-1 with our Head Coach Susan Dillon. Susan is a qualified Level 3 Swim Ireland and Level 2 Swim Ireland Open Water Coach with international experience. Swimmers of all levels and backgrounds will benefit from these lessons.
Kids and adults are welcome to join our Open Water / Sea Swimming Lessons and Events.
Open water swimming is an extremely popular sport that challenges swimmers both physically and mentally. Join us for our Open Water Swimming Adult Series this summer to learn how it can be just as enjoyable in the waves of the Sea!
CLONTARF BATHS OPEN WATER SWIMMING FOR ADULTS
Join our structured session in the 40m sea water pool in Clontarf. We offer a variety of different courses, such as swim lessons for beginner, more advanced adults or for triathletes.
Our clinics are perfect for those who have mastered the pool but want to explore new territory. They're great for budding triathletes or open water swimmers looking to build their confidence!
We offer Swimming Lessons in Dublin, Ireland for Kids and Adults. Currently, we are operating at the following locations:
Castlepark School, Dalkey, Co. Dublin
Belvedere College, Dublin City Centre
Clontarf Baths, Co. Dublin
Seapoint Beach, Co. Dublin
Killiney Beach, Killiney, Co. Dublin
Fully Qualified Expert Swim Coaches & Team Members
We provide swimming coaching for children and adults, including beginner, intermediate and advanced levels. Our swimming coaches are highly qualified and all members of Swim Ireland. They give every swimmer the opportunity to improve their swimming skills and achieve their goals at their level, from club to national competitor.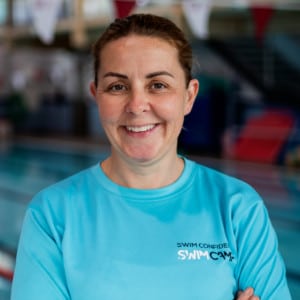 Level 3 Swim Ireland Coach/ Level 2 Swim Ireland Open Water Coach
CAMP
TESTIMONIALS & REVIEWS
We would like to thank all of you, our customers, for the positive feedback we have received about our Open Water – Sea Swimming, and Pool Swimming Camps. We are very grateful that the Swimming Camps have been such a huge success!
Thanks Susan - It was a really enjoyable session; you have a great team! Best of luck with your teaching adventures.
I really enjoyed the training session with Swim Camp. It will bring me on nicely for Triathlons.
Hi Manuela, many thanks to you and the girls for the session last night, it was very well organised and I really enjoyed it.
I had a wonderful experience and am looking forward to future events. Many thanks for advice last night. Also, coach Sophie was amazing and so helpful.
I just wanted to say thanks to you all for running your swim challenge this morning. It was such a comfortable and safe environment to do my first distance swim!
Thanks a million for this morning Manuela, and thanks to Ciara. Loved it - brilliant. Have signed up for next weekend!